St Louis Blues
St. Louis, Missouri, USA
The St. Louis Blues are a professional ice hockey team based in St. Louis, Missouri. They are members of the Central Division of the Western Conference of the National Hockey League (NHL). The franchise was founded in 1967 as one of the six teams from the 1967 NHL expansion and is named after the W. C. Handy song "Saint Louis Blues". The Blues play their home games at the 19,150-seat Enterprise Center in downtown St. Louis, which has been their arena since moving from St. Louis Arena in 1994.  Game Records  The Blues qualified for the playoffs in all but nine of their 52 seasons, appeared in the Stanley Cup Finals four times, and won the Stanley Cup in 2019. Their 42 playoff appearances are the most for any NHL team outside of the Original Six, although the franchise struggled in the postseason throughout much of their history.
While they made the Stanley Cup Finals in each of their first three seasons, they were swept each time. With the Blues' victory in their fourth Stanley Cup Final, 49 years after their last appearance and in their 52nd year of existence, they became the final active team from the 1967 expansion to win their first Stanley Cup in 2019.
Officially Licenced with the NFL, NBA, NHL, MLB & Most Major Colleges
FREE SHIPPING ON ALL ORDERS OVER $99
About Authentic Street Signs
Better Materials. Better Signs.
We believe our customers deserve better. Better materials. Better customer service. Better Signs. That's why we created our Classic Avenue Collection–REAL Street Signs made in an actual Street Sign Factory. They remain one of our customers' favorite products and can be found in homes, man caves, kids rooms, and offices around the country.
Though often imitated, our Street Signs have never been matched in quality. We craft each sign with pride and back every product with a 100% Guarantee.
Heavy Duty U.S. Steel
Every sign is made from heavy gauge steel.
Why Steel? It's stronger, more durable, and lasts a lifetime. Steel is also easily sourced from recycled materials that save the environment. That's why a portion of our steel comes from recycled materials.
St. Louis Blues Pros And Cons From Game 26 At Tampa Bay
Todd Panula • Nov. 28, 2019
The St. Louis Blues took care of business the last couple times they faced the Tampa Bay Lightning. However, after a couple disappointing losses, the question was whether the Blues could rebound in Tampa…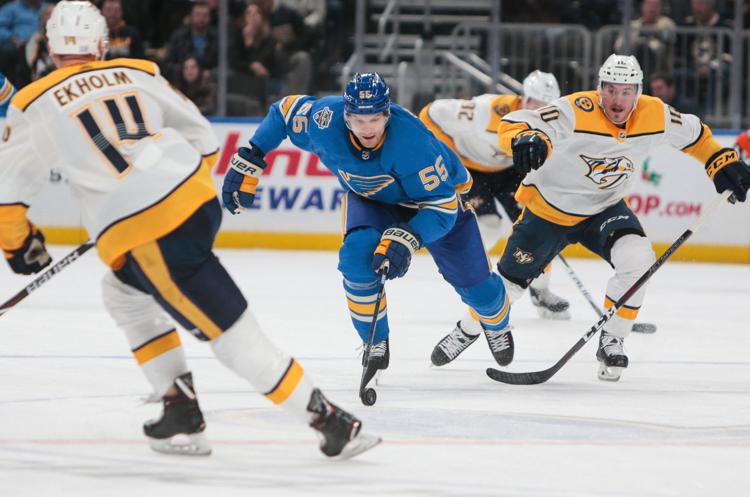 Blues notebook: Parayko to replace Faulk on power play
Jim Thomas • Nov. 27, 2019
TAMPA, Fla. — One of the reasons the Blues traded for Justin Faulk and signed him to a seven-year, $45.5 million contract extension in late September was his prowess on the power play…
Sundqvist scores two, leaves with injury in 4-3 win for Blues
Tom Timmermann • Nov 27, 2019
The Blues wouldn't have beaten the Lightning without Oskar Sundqvist on Wednesday night, though that's ultimately what they had to do.
Sundqvist scored two goals in the second period to put the Blues ahead 2-1, then…
114 East Third Saint Peter, IL 62880 United States (800) 289-4042
Street signs are a part of Americana Guideposts for our lives and our history. Now you and your customers can post your own history with Authentic Street Signs™,
by combining nostalgia and your favorite team to create a unique licensed product.
© 2019 Authentic Street Signs. All Rights Reserved